If you weren't at TimeWheel's Label Show at Imagine Books and Records on Friday, then you missed out on a psychotropic musical ride. TimeWheel seems to be showing what they're made of lately, displaying some of the best music coming out of San Antonio right now. The entire night was an intergalactic cosmic trip, something Timewheel seems to be becoming known for doing, with each artist's performance taking you on its own individual and unique trip. A fog machine, a projector and a couple strings of flashing neon lights were all it took to transform the corner of this tiny bookstore into a trance-inducing ride through space and time.
Local trip-hop producer Jonah Conrad might be one of the youngest under Timewheel's label but is far from seeming like it, putting on an electric performance that included a mesmerizing remix of Ciara's classic 1,2, Step and a series of tracks off Les Sins' "Michael". The psychedelic scene was entrancing to any bystander as visuals shot out from the projector included imagery from "Akira" and covered the crowd dancing underneath the neon colored haze. Songwriter and lead singer of Octahedraon, Elena Lopez, joined Jonah near the end of his set and gave an angelic surprise performance of "Underneath My Skin." The song, a godly collaboration that was released just last week, had the crowd echoing cheers at the end of nearly every line she sang and was the first time the two had performed the song live.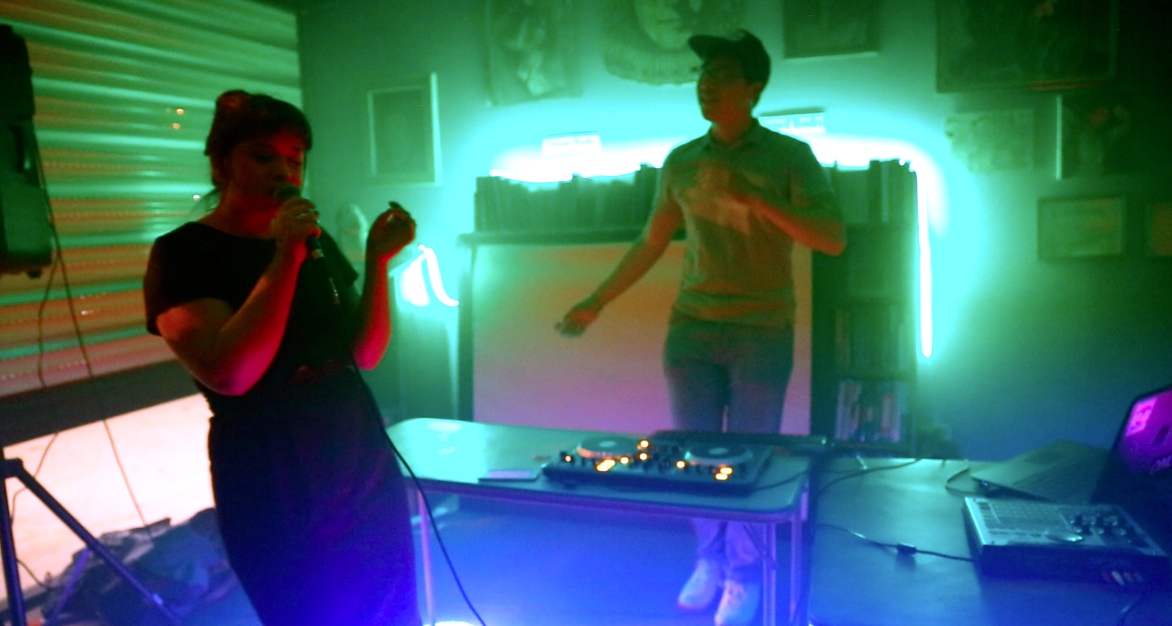 Reek $avage stepped to the mic next. And for those who don't know his name, you should probably start learning it, because this San Antonio native rapper has some raw rhyming skills, and eager to show them off, he kicked off his set with a freestyle that you can bet got the crowd even more hyped for what was next. To accompany his authentic bars, which actually contained diverse melodic rhythms to them (a recent rare in today's hip-hop scene), he had producer and beat extraordinaire Arkeologist join him in the pilot seat of the spaceship.
To describe the scene, you could put it this way: At first, there was a stage – and by that I mean some sort of separating space between him and the crowd - but by the end of his performance, the crowd and him had merged into one bundle of bouncing bodies. Beat-master and producer 40 Hands, who just released his first official beat tape on TimeWheel titled La Luna (Dirty Tapes 000), joined Arkeologist in a collaboration performance, mixing their jazzy and celestial, soulful sounds that reminisce those of Flying Lotus and J-Dilla. The INF, who according to TimeWheel presents a sound described as "The Digital Afterlife," closed out the mind-altering night with his electronic experimental beats and thought-provoking lines that even included sexy saxophone riffs from guest performer Ezra Hurd.
Editor's note: This is was the first time, I personally had been to a live musical performance at Imagine Books and Records and I must say, I was quite impressed. The overall feel of the night was very much that of a traditional venue. The anticipation and engagement of the audience, the quality of the sound and the quality of the talent performing all combined to create an atmosphere not always found in every space where live music is hosted.
Another noteworthy facet of Imagine: their community building efforts. Bridging fans cross-genre through connecting them via the bookstore, the performances and now their bandcamp where they host various songs from regional creators. Imagine Books and Records got it going on San Antonio, and Sobre Sound HIGHLY RECOMMENDS attending a show there very soon, you'll have a great time and will witness something special without the hassle of downtown.